Welcome to a World of things to do….
Within the Resort:
The Resort at Sandy Point provides an abundance of amazing opportunities for recreation and relaxation within the resort itself. Sandy Point offers opportunities for fishing, swimming, boating, a marina and boat launch, a first class 12 hole golf course (under construction), endless magical walking trails, playgrounds, laundry, bathroom/shower facilities, horseshoes, fabulous beach, The list is a long one!!
You may choose to never leave once you have arrived!
Around the area:
Activities are endless! With minutes, you will find the town of Bentley. Explore unique one of a kind shops, a great Farmers Market on Saturday, and various restaurants.
Just to the East of Sandy Point and over QEll, is the small city of Lacombe. Unique in it's architecture, Lacombe has a number of residential and commercial buildings that are worth the tour, including the Flatiron Museum & Interpretive Centre.
Lacombe offers an abundance of cultural attractions and recreational opportunities. Whether you enjoy a hike through the extensive trails system, touring historic downtown murals or taking in one of our many cultural events and festivals, Lacombe has it all including a great Farmers Market every Friday from 9am – 1pm starting in May and the Cinema for those rainy days!
Be sure to check out:
Bentley Farmers Market – Held every Saturday from May long weekend to September long weekend at the Bentley Curling Rink between the hours of 1:30 to 4:00, this market is the largest and most popular in Central Alberta. www.townofbentley.ca
Kraay Family Farm – Fantastic for the kids including their famous corn maze, bouncy castles, Chicken Shows, Miniature Golf, Gemstone Mining and so much more! www.kraayfamilyfarm.com
Ellis Bird Farm – a conservation, education and research centre, with tours and a great program for family visits. www.ellisbirdfarm.ca
Flying Cross Ranch – Offering Horseback Riding Tours. www.flyingcrossranch.com/
Cowpatti Theatre Company Dinner Theater. www.cowpatti.com
Golfing – While you are waiting for the Sandy Point Course to be completed, practice your swing at the Gull Lake Golf Course, on the north end of the lake, or at the Lacombe Golf and Country Club in Lacombe.
Come visit Sandy Point to see what the "Year Round Resort Lifestyle" is all about!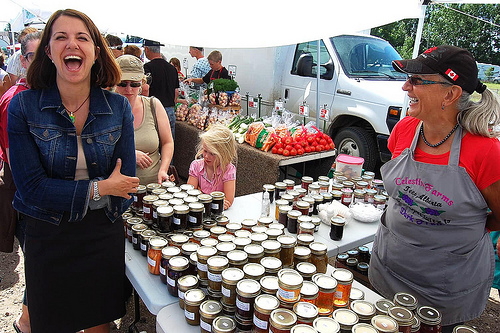 The Bentley Farmers market is every Saturday (starting in May) from 1:30 – 3:30pm.
Stop for lunch at the Monkey Top Saloon for a great meal and one of their famous Ceasars!

Pic sourced from LacombeTourism.com
Lovin' Sandy Point Year Round!
Now is the time to visit Sandy Point. Wander through our resort, pick the perfect lot for you and your family and come enjoy the lifestyle at Sandy Point Resort located on Gull Lake, AB. Sandy Point offers year round resort living in a gated community.